June 06, 2012 posted by Mike M. Volokhov
Less than a year ago the
Internet Society
took leadership in organizing the
World IPv6 Day
, which was enthusiastically supported by many companies and organizations around the world. And now the
world is switching to IPv6
again. This time forever.
Major Internet service providers (ISPs), home networking equipment manufacturers, and web companies around the world are coming together to permanently enable IPv6 for their products and services by 6 June 2012.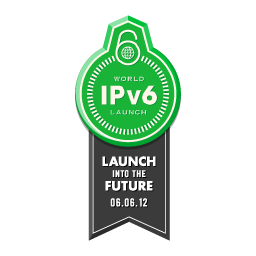 The NetBSD Project warmly supports this initiative and is fully ready for the new and shiny IPv6 world.
KAME IPv6 code was merged into NetBSD in June 1999, and is part of NetBSD. Since then, the GENERIC kernel configuration enables IPv6 support by default for most of the architectures (ports). Userland code includes IPv6 support where possible, by default, so no rebuild of userland is necessary even if you switch between an IPv4-only kernel and an IPv4/v6 kernel. The pkgsrc packages collection is also offering IPv6 support for many packages, making it optional where applicable.
Today NetBSD is known as source for a feature-rich mature IPv6 code base, which makes it attractive for networking applications as well as development.
The major Internet resources of the NetBSD Project are directly available via IPv6 through direct names (and have been for years, thanks to our providers). Please visit us at:
ftp://ftp.NetBSD.org, also available as http://ftp.NetBSD.org
ssh://anoncvs.NetBSD.org, also available as pserver://anoncvs.NetBSD.org
Please visit the World IPv6 Launch site at:
[
2 comments
]