February 08, 2023 posted by Pierre Pronchery
FOSDEM took place last week-end, as an offline-first event again for the first time since 2020. It was located as usual at the university campus of the ULB in Brussels. It was packed with developers, users, passionate and professionals of Open Source software, and while NetBSD did not have a booth this year, its presence could be felt on Saturday morning at the BSD DevRoom.[
Read More
] [
0 comments
]
January 02, 2023 posted by Pierre Pronchery
The sixth Reproducible Builds Summit took place exactly two months ago in Venice, Italy. These three days of workshops were filled with a succession of interactive sessions, where everyone attending had the opportunity to present or learn about anything related to Build Reproducibility. This included the status of specific Open Source projects, techniques to locate, analyse, and understand issues, or also how to explain and communicate better around this topic.
[
Read More
] [
0 comments
]
September 20, 2022 posted by Nia Alarie
After two years of trying, we managed to have a EuroBSDCon in Vienna. Here's how it went...
[
Read More
] [
3 comments
]
October 01, 2018 posted by Maya Rashish
This was my first big BSD conference. We also planned - planned might be a big word - thought about doing a devsummit on Friday. Since the people who were in charge of that had a change of plans, I was sure it'd go horribly wrong.
The day before the devsummit and still in the wrong country, I mentioned the hours and venue on the wiki, and booked a reservation for a restaurant.
It turns out that everything was totally fine, and since the devsummit was at the conference venue (that was having tutorials that day), they even had signs pointing at the room we were given. Thanks EuroBSDCon conference organizers!
At the devsummit, we spent some time hacking. A few people came with "travel laptops" without access to anything, like Riastradh, so I gave him access to my own laptop. This didn't hold very long and I kinda forgot about it, but for a few moments he had access to a NetBSD source tree and an 8 thread, 16GB RAM machine with which to build things.
We had a short introduction and I suggested we take some pictures, so here's the ones we got. A few people were concerned about privacy, so they're not pictured. We had small team to hold the camera :-)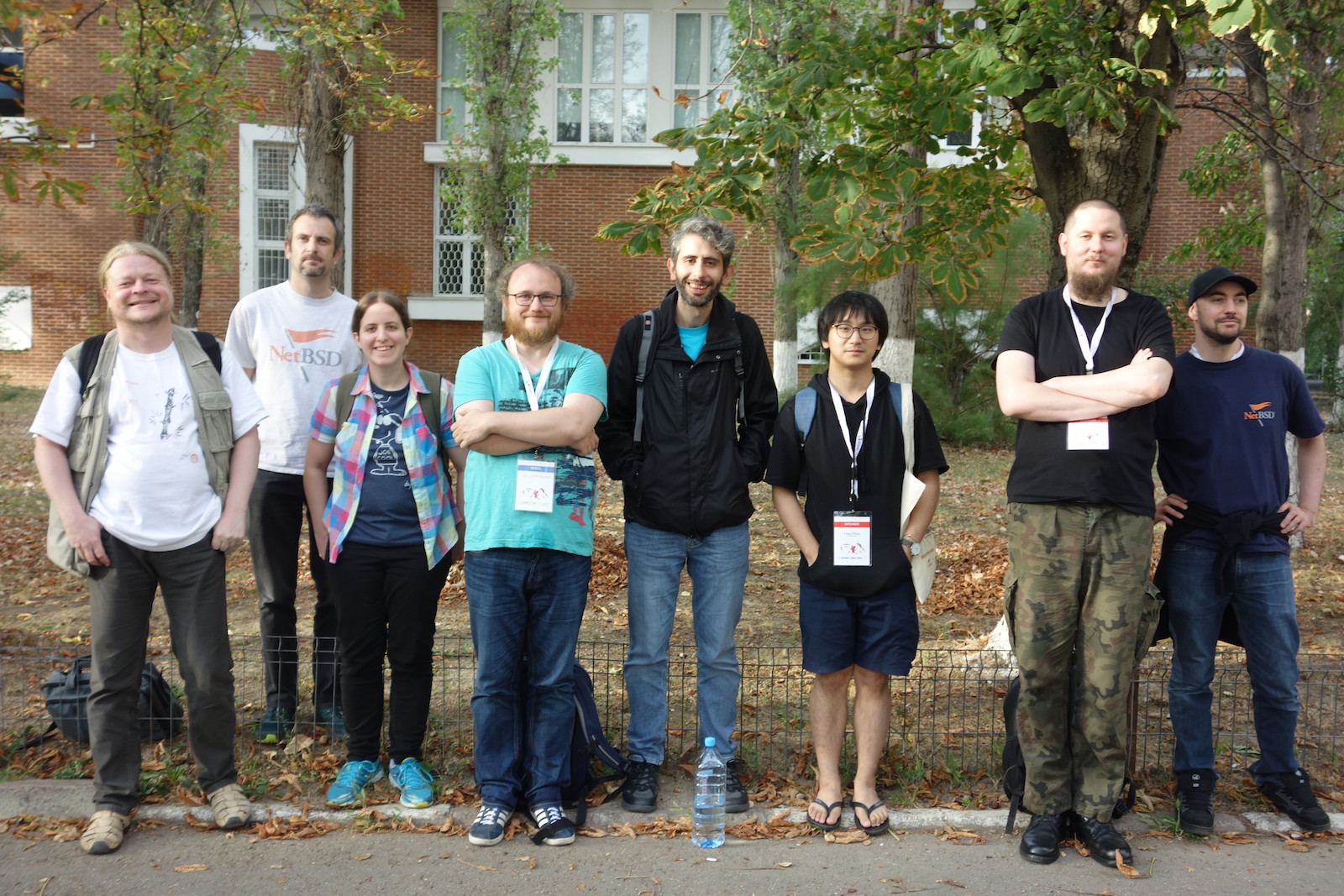 At the actual conference days, I stayed at the speaker hotel with the other speakers. I've attempted to make conversation with some visibly FreeBSD/OpenBSD people, but didn't have plans to talk about anything, so there was a lot of just following people silently.
Perhaps for the next conference I'll prepare a list of questions to random BSD people and then very obviously grab a piece of paper and ask, "what was...", read a bit from it, and say, "your latest kernel panic?", I'm sure it'll be a great conversation starter.
At the conference itself, was pretty cool to have folks like Kirk McKusick give first person accounts of some past events (Kirk gave a talk about governance at FreeBSD), or the second keynote by Ron Broersma.
My own talk was hastily prepared, it was difficult to bring the topic together into a coherent talk. Nevertheless, I managed to talk about stuff for a while 40 minutes, though usually I skip over so many details that I have trouble putting together a sufficiently long talk.
I mentioned some of my coolest bugs to solve (I should probably make a separate article about some!). A few people asked for the slides after the talk, so I guess it wasn't totally incoherent.
It was really fun to meet some of my favourite NetBSD people. I got to show off my now fairly well working laptop (it took a lot of work by all of us!).
After the conference I came back with a conference cold, and it took a few days to recover from it. Hopefully I didn't infect too many people on the way back.
[
0 comments
]
October 11, 2017 posted by Leonardo Taccari
Let me tell you about my experience at EuroBSDcon 2017 in Paris, France. We will see what was presented during the NetBSD developer summit on Friday and then we will give a look to all of the NetBSD and pkgsrc presentations given during the conference session on Saturday and Sunday. Of course, a lot of fun also happened on the "hall track", the several breaks during the conference and the dinners we had together with other *BSD developers and community! This is difficult to describe and I will try to just share some part of that with photographs that we have taken. I can just say that it was a really beautiful experience, I had a great time with others and, after coming back home... ...I miss all of that! :) So, if you have never been in any BSD conferences I strongly suggest you to go to the next ones, so please stay tuned via NetBSD Events. Being there this is probably the only way to understand these feelings!
[
Read More
] [
2 comments
]
July 08, 2017 posted by Sevan Janiyan
This years pkgsrcCon returned to London once again. It was last held in London back in 2014. The 2014 con was the first pkgsrcCon I attended, I had been working on Darwin/PowerPC fixes for some months and presented on the progress I'd made with a 12" G4 PowerBook. I took away a G4 Mac Mini that day to help spare the PowerBook for use and dedicate a machine for build and testing. The offer of PowerPC hardware donations was repeated at this years con, thanks to jperkin@ who showed up with a backpack full of Mac Minis (more on that later).
Since 2014 we have held cons in Berlin (2015) & Krakow (2016). In Krakow we had talks about a wide range of projects over 2 days, from Haiku Ports to Common Lisp to midipix (building native PE binaries for Windows) and back to the BSDs. I was very pleased to continue the theme of a diverse program this year.
Aside from pkgsrc and NetBSD, we had talks about FreeBSD, OpenBSD, Slackware Linux, and Plan 9.
Things began with a pub gathering on the Friday for the pre-con social, we hung out and chatted till almost midnight on a wide range of topics, such as supporting a system using NFS on MS-DOS, the origins of pdksh, corporate IT, culture and many other topics.
On parting I was asked about the starting time on Saturday as there was some conflicting information. I learnt that the registration email had stated a later start than I had scheduled for & advertised on the website, by 30 minutes.
Lesson learnt: register for your own event!
Not a problem, I still needed to setup a webpage for the live video stream, I could do both when I got back. With some trimming here and there I had a new schedule, I posted that to the pkgsrcCon website and moved to trying to setup a basic web page which contained a snippet of javascript to play a live video stream from Scale Engine.
2+ hours later, it was pointed out that the XSS protection headers on pkgsrc.org breaks the functionality. Thanks to jmcneill@ for debugging and providing a working page.
Saturday started off with Giovanni Bechis speaking about pledge in OpenBSD and adding support to various packages in their ports tree, alnsn@ then spoke about installing packages from a repo hosted on the Tor network.
After a quick coffee break we were back to hear Charles Forsyth speak about how Plan 9 and Inferno dealt with portability, building software and the problem which are avoided by the environment there. This was followed by a very energetic rant by David Spencer from the Slackbuilds project on packaging 3rd party software. Slackbuilds is a packaging system for Slackware Linux, which was inspired by FreeBSD ports.
For the first slot after lunch, agc@ gave a talk on the early history of pkgsrc followed by Thomas Merkel on using vagrant to test pkgsrc changes with ease, locally, using vagrant. khorben@ covered his work on adding security to pkgsrc and bsiegert@ covered the benefits of performing our bulk builds in the cloud and the challenges we currently face.
My talk was about some topics and ideas which had inspired me or caught my attention, and how it could maybe apply to my work.The title of the talk was taken from the name of Andrew Weatherall's Saint Etienne remix, possibly referring to two different styles of track (dub & vocal) merged into one or something else. I meant it in terms of applicability of thoughts and ideas. After me, agc@ gave a second talk on the evolution of the Netflix Open Connect appliance which runs FreeBSD and Vsevolod Stakhov wrapped up the day with a talk about the technical implementation details of the successor to pkg_tools in FreeBSD, called pkg, and how it could be of benefit for pkgsrc.
Netflix confirms it: BSD is not dying #pkgsrcCon

— Benny Siegert (@bentsukun) July 1, 2017
For day 2 we gathered for a hack day at the London Hack Space.
I had burn't some some CD of the most recent macppc builds of NetBSD 8.0_BETA and -current to install and upgrade Mac Minis. I setup the donated G4 minis for everyone in a dual-boot configuration and moved on to taking apart my MacBook Air to inspect the wifi adapter as I wanted to replace it with something which works on FreeBSD. It was not clear from the ifixit teardown photos of cards size, it seemed like a normal mini-PCIe card but it turned out to be far smaller. Thomas had also had the same card in his and we are not alone. Thomas has started putting together a driver for the Broadcom card, the project is still in its early days and lacks support for encrypted networks but hopefully it will appear on review.freebsd.org in the future.
weidi@ worked on fixing SunOS bugs in various packages and later in the night we setup a NetBSD/macppc bulk build environment together on his Mac Mini.
Thomas setup an OpenGrock instance to index the source code of all the software available for packaging in pkgsrc. This helps make the evaluation of changes easier and the scope of impact a little quicker without having to run through a potentially lengthy bulk build with a change in mind to realise the impact.
bsiegert@ cleared his ticket and email backlog for pkgsrc and alnsn@ got NetBSD/evbmips64-eb booting on his EdgeRouter Lite.
#pkgsrcCon hackathon work by @docscream: https://t.co/3GY3TRtdNV code search over everything (still indexing)

— Wiedi (@wied0r) July 2, 2017
On Monday we reconvened at the Hack Space again and worked some more. I started putting together the talks page with the details from Saturday and the the slides which I had received, in preperation for the videos which would come later in the week. By 3pm pkgsrcCon was over. I was pretty exhausted but really pleased to have had a few days of techie fun.
Many thanks to The NetBSD Foundation for purchasing a camera to use for streaming the event and a speedy response all round by the board. The Open Source Specialist Group at BCS, The Chartered Institute for IT and the London Hack Space for hosting us. Scale Engine for providing streaming facility. weidi@ for hosting the recorded videos.
Allan Jude for pointers, Jared McNeill for debugging, NYCBUG and Patrick McEvoy for tips on streaming, the attendees and speakers. This year we had speakers from USA, Italy, Germany and London E2.
Looking forward to pkgsrcCon 2018!
The videos and slides are available here and the Internet Archive.
[
0 comments
]
January 14, 2017 posted by Thomas Klausner
The NetBSD Foundation took part in the
2016 Google Summer of Code
.
Hrishikesh Goyal worked on the project "Implement Ext4fs support in ReadOnly mode". He tackled two features of an ext4fs implementation: extents and HTree DIR read/write support. His work was committed into the NetBSD source tree in multiple commits.
charles cui worked on adding tests for better "POSIX Test Suite Compliance". This involved porting the Open Posix benchmark suite to NetBSD. Many of the tests showed missing features, and Charles worked with his mentors to improve the results. See his summary for details.
Leonardo Taccari worked on "Split debug symbols for pkgsrc builds". He already blogged about this in much detail on this blog.
A big thank you to Google for sponsoring the students to work on NetBSD, the students for working on the projects, and the mentors that were helping them along! [0 comments]
May 25, 2015 posted by Sebastian Wiedenroth
The 10th pkgsrcCon is happening on the weekend of July 4th and 5th 2015 in Berlin. Developers, contributors, and users are all welcome to attend.
More details can be found on the pkgsrcCon 2015 website.
Call for presentations
Everyone is welcome to make a presentation. So please do! If you already have title or topic please send an email to wiedi@frubar.net.
I look forward to seeing you there!
[
0 comments
]
March 30, 2015 posted by Justin Cormack
Trip report from AsiaBSDCon 2015[
Read More
] [
3 comments
]
September 30, 2014 posted by Martin Husemann
More than twenty NetBSD developers gathered at EuroBSDCon 2014 in Sofia[
Read More
] [
1 comment
]
November 16, 2013 posted by Benny Siegert
FOSDEM 2014 will take place on 1–2 February, 2014, in Brussels, Belgium. Just like in the last years, there will be both a BSD booth and a developer's room (on Saturday).
The topics of the devroom include all BSD operating systems. Every talk is welcome, from internal hacker discussion to real-world examples and presentations about new and shiny features. The default duration for talks will be 45 minutes including discussion. Feel free to ask if you want to have a longer or a shorter slot.
If you already submitted a talk last time, please note that the procedure is slightly different.
To submit your proposal, visit
https://penta.fosdem.org/submission/FOSDEM14/
and follow the instructions to create an account and an "event". Please select "BSD devroom" as the track. (Click on "Show all" in the top right corner to display the full form.)
Please include the following information in your submission:
The title and subtitle of your talk (please be descriptive, as titles will be listed with ~500 from other projects)
A short abstract of one paragraph
A longer description if you wish to do so
Links to related websites/blogs etc.
The deadline for submissions is December 20, 2013. The talk committee, consisting of Daniel Seuffert, Marius Nünnerich and Benny Siegert, will consider the proposals. If yours has been accepted, you will be informed by e-mail before the end of the year.
[
1 comment
]
February 03, 2012 posted by Matthias Scheler
The 16th NetBSD hackathon will be run from February 10th to February 12th. Our goal is fixing all the bugs that need fixing to get NetBSD-current ready for the creation of the NetBSD 6.0 release branch.
Everybody that has an interest in NetBSD, from developers, documentation writers, translators, to advanced users are invited to attend. To make sure that NetBSD users get the best possible experience of the new release we would like to fix as many bugs as possible. For a list of bugs and more information look at the Wiki Page please.
If you are able to help us fixing these bugs by supplying patches or testing fixes please consider to participate. We are also in need of people to supply documentation fixes, preferably in the form of patches. Release notes and/or manual pages!
Join us on the IRC channel #netbsd-code on freenode (irc.freenode.net). Just join, have a look around and ask your questions or what work needs to be done.
[
0 comments
]